OPENING DAY
MOTHER'S DAY WEEKEND
SATURDAY,MAY 12/18
8:00 AM TO 5:00 PM
MOTHERS DAY SPECIAL
open 8:00am to 5:00 pm.
free strawberry shortcake dessert
recommend making a reservation
(please text or call 250-863-5536)
we look forward to seeing to seeing every one again
in our 8th season
Come join us at the OK Patio Cafe for coffee, cold drinks, fresh baked treats, ice cream, and a delicious home cooked meal. Our cafe offers outdoor patio dining, or take out service at reasonable prices. Check out the weekly specials!
The Patio Cafe location presents locals and visitors with an opportunity to tour the Lake Country Museum, relax at the beach, play in the park, and enjoy the amazing Okanagan Lake view. Our staff is family orientated, and very friendly. So drop by and experience a delightful outdoor patio atmosphere at OK Patio Cafe, as well as our new covered seating additions.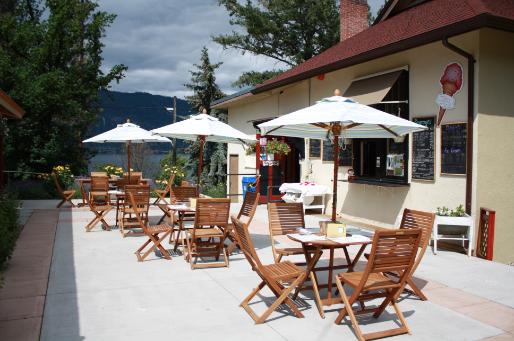 Open Mother's Day
to Labour Day
weekend!
HOURS:
MONDAY, WEDNESDAY, THURSDAY & FRIDAY
9-5
SATURDAY & SUNDAY
8-5
CLOSED TUESDAYS