~ Last Day ~
Monday September 4th, 9-5 pm
Buffet Only
9-12 Breakfast
12-3 Lunch
$10 .00 per person *does not include drinks*
~
Thank you to everyone who came out this year to support us!
Look forward to seeing you next year.
OK Patio Cafe reopens Mother's Day Weekend 2018
Come join us at the OK Patio Cafe for coffee, cold drinks, fresh baked treats, ice cream, and a delicious home cooked meal. Our cafe offers outdoor patio dining, or take out service at reasonable prices. Check out the weekly specials!
The Patio Cafe location presents locals and visitors with an opportunity to tour the Lake Country Museum, relax at the beach, have a family picnic, and enjoy the amazing Okanagan Lake view. Our staff is family orientated, and very friendly. So drop by and experience a delightful outdoor patio atmosphere at OK Patio Cafe, as well as our new covered seating additions.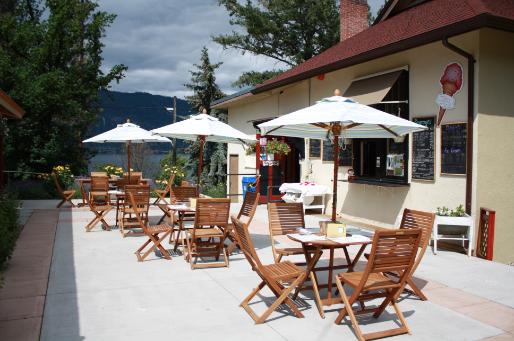 Open Mother's Day
to Labour Day
weekend!
HOURS:
MONDAY, WEDNESDAY, THURSDAY & FRIDAY
9-5
SATURDAY & SUNDAY
8-5
CLOSED TUESDAYS